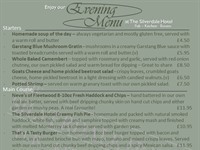 When are we open and When Can you Eat!
Thanks so much for your interest in The Silverdale Hotel!
We are open Monday through Sunday from 11am to 11pm where we will be happy to serve you with something from the bar or a speciality Tea or Coffee from Farrer's of Kendal.
Our Kitchen is open Tuesday through Saturday from 12pm to 3pm and then from 6pm to 9pm and on Sundays from 12pm to 4pm. Last orders for food are 15mins before the end of service and booking is advisable as we can get pretty busy.
You can see our Menus by clicking on the Kitchen tab.
We're sorry we don't do food on a Monday as our Chef's are recharging their batteries for the up and coming week.
We would love to see you so if you would like to book or have any questions please give us a call on 01524 701118.
See you very soon!