The Saracens Head
The Saracen's Head Inn is a traditional English pub serving real ales, fine wines and home-cooked food every lunchtime and evening. The original stables surrounding the courtyard have been converted into stylish, comfortable en-suite accommodation available for Bed and Breakfast. During the conversion, we discovered an underground bear pit near the cellar. This was used for bear 'baiting' (fighting) over 300years ago, thankfully a tradition no longer kept! We are situated a stone's throw away from the fashionable shops and boutiques in the High Street of Amersham Old Town. Trains from Amersham Station go directly into London in less than 30mins. It is also extremely popular with walkers who wish to explore the countryside surrounding us. Amersham - probably more than any other similar small town in England - preserves in the streets of the Old Town the same general appearance that it displayed during the 17th and 18th centuries. There is evidence that a Roman Villa existed in the area (any remains now believed buried under Shardeloes Lane). However, the origins of the town go back to pre Saxon times. Amersham was then called Agmodesham. The Doomsday Book listed Amersham as Elmodesham, with 6 manors, one belonging to the wife of Edward the Confessor. In 1200, King John granted the town a market and fair, the fair is still held every year on the 19th and 20th of September, the market every Tuesday, but it has moved to Amersham on the Hill. The Reformation had some roots in the town as several Lollards were condemned to death and burnt at the stake, a memorial on the hill above the town commemorates this event and in 2001 the people of Amersham performed a community play re creating the events of the time.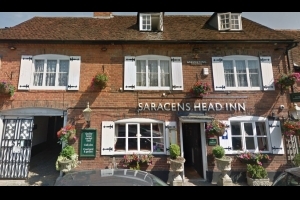 Cleaning and safety
Professionally cleaned
Disinfected between stays
Contactless check-in/out
High-touch surfaces disinfected
Linens washed above 60°C/140°F
Mattress and pillow protectors
Washable duvet covers
Common area doors left open
Outside air ventilation
First aid kit
Staff trained in safety protocol
Sanitised tableware
Facilities
Baggage store
Bar
On-site entertainment
Free WiFi internet
Restaurant
Stables
Bike lock-up
WiFi internet
Newspaper service
Plug adapters
Transport service
Terrace
Ice machine
Sun umbrellas
Breakfast lounge
Housekeeping - daily
Housekeeping - weekly
Express check in
Express check out
Pet bowls
Ironing service
Designated smoking area
Outdoor fireplace
Sun terrace
CCTV in common areas
CCTV outside property
Breakfast served in restaurant
Parking
Free parking
Secure parking
Dining
Cooked breakfast
Lunch
Dinner
Breakfast
Free breakfast
English/Irish breakfast
Vegetarian options
Vegan options
Gluten-free options
Vegetarian breakfast
Vegan breakfast
Activities and Experiences
Bird watching
Cricket
Cycling
Fine dining
Fishing
Fly fishing
Football
Golf
Golf - driving range
Horse riding
Art galleries & museums
Nightclubs
Shopping
Antiques & fairs
Theatre
Walking
Water-skiing
Windsurfing
Wine tasting
Farm life
Backpacking
Celebrity spotting
Cinema
Concerts, music
Family fun
History/science museums
Pampering
Pub crawl
Wild life
Hiking
Accessibility
The Saracens Head has eight ground floor rooms which are easily accessible from the front of the building. The bar and eating area is also on the ground floor with just a small step at the front door.