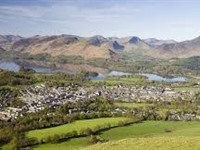 History of Keswick
A brief history of Keswick
Keswick's history dates back to Neolithic times as confirmed by finds of stone implements and weapons in the area. The 4000 year old stone circle at Castlerigg is evidence of settlements in the area and was probably used as a meeting place and for tracking the seasons.
Since 1276 there has been a market in the town of Keswick (from 'Cese-wic' – the cheese town), and cheese fairs were held regularly until the early 1900's.
Medieval Keswick had been planned as a ribbon development along either side of the market place. By the 19th century these plots had been filled in as Yards supporting small workshops and cottage industries based on wool and leather.