Auberge Des Deux Rivières
Our hotel-restaurant is located in the hamlet of Pont de la Taule which is situated in the heart of the regional protected nature park: 'Pyrénées Ariégeoises', 5 kilometers from the nearby town; Seix. Our cozy inn is the perfectly situated to discover the surrounding natural beauty, fauna, historic cultural treasures and abundant sporting activities.
The inn features, 9 rooms (2, 3, 4 or 5 persons) each with a private bathroom, an authentic restaurant, a breakfast room, a meeting room, a garage, a cozy reception / lounge with fireplace and TV, free wireless Internet and telephone with our landline, a spacious terrace and a garden overlooking the valley and the confluence of two mountain rivers, the Alet and Salat. Here a natural formed beach provides you with the opportunity to enjoy the cold and pure mountain water. We also provide free parking, and pets are welcome, provided they do not disturb other guests, of course.
Our nine rooms that combine contemporary comfort and genuine charm, which is most evident in the rooms under the wooden roof trusses on the second floor. Our modest rooms feature a private bathroom and toiletries, and can accommodate 2, 3, 4 or 5 people. The rooms on the first floor have showers the ones on the second floor have a bathtub. We took extra care to provide a comfortable sleep experience and invested in the quality of the mattresses, on which 90% of our guests sleep well to very well. We do not have TVs in the rooms so you can immerse yourself in the past life when a good conversation with others, a good book, a nice game and a life without stress on the rhythm of nature were central. However, we have installed a television in our reception/ lounge for the important moments which is at your disposal.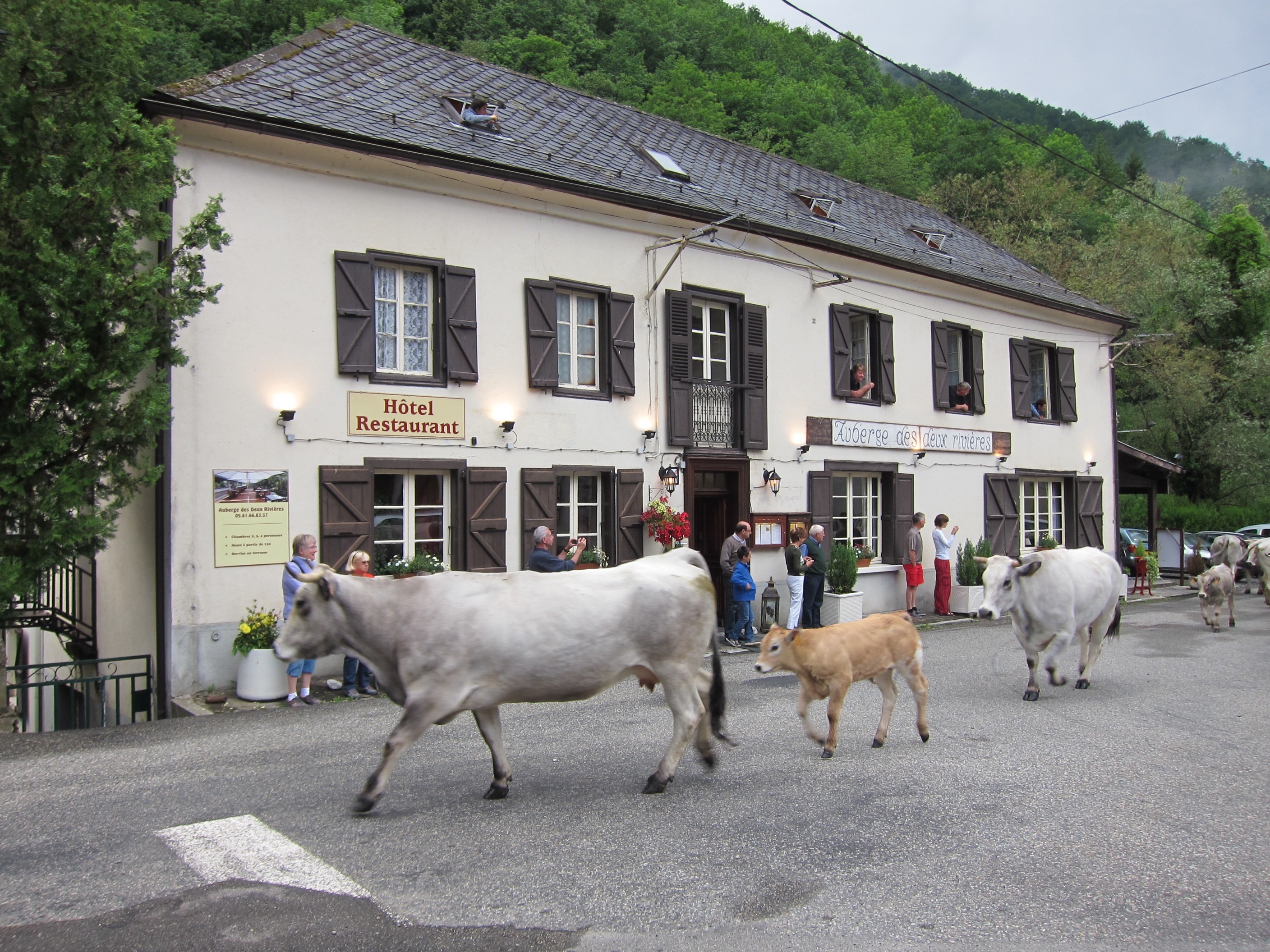 We would like to let you participate in the joy of the simple rural life in an authentic atmosphere with good-old fashionend hospitality in the heart of the natural parc Ariege pyrenenees In our hotel-restaurant Auberge Des Deux Rivieres, we combine the rural daily life for which the Ariège is known and the wild nature of the Pyrenees, with; our hospitality, delicious classic and original modern dishes, relaxed and homely atmosphere, comfortable modest rooms with the basic luxuries, and the peace and serenity that can be found in unspoiled nature all around us.
Reinigung und Sicherheit
Professionell gereinigt
Täglich desinfiziert
Desinfiziert zwischen den Aufenthalten
Handdesinfektionsmittel
Soziale Distanzierung
Oberflächen mit hoher Kontaktfläche desinfiziert
Über 60°C/140°F gewaschene Bettwäsche.
Reduzierte Belegung
Kein gemeinsames Büromaterial
Ausstattung
Gepäckaufbewahrung
Bar
Freier Internetzugang (WLAN) im öffentlichen Bereich
Lounge
Restaurant
Sichere Fahrradlagerung
Garten
Terrasse
Liegestühle
Sonnenschirme
Frühstücksraum
Rollstuhlfreundlich
Privater Strandbereich
Spielzimmer
Sonnenterrasse
Haustiere leben auf dem Grundstück
Bibliothek
Breiter Eingang zur Unterkunft
Parkmöglichkeiten
Parken auf dem Gelände
kostenfreies Parken
Einrichtungen für Geschäftsreisende
Verpflegung
Frühstück (Continental)
Mittagessen
Abendessen
Frühstück
Halbpension
Vegetarische Auswahl
Vegane Auswahl
Glutenfreie Auswahl
Aktivitäten im Haus und allg. Erlebnisse
Tierbeobachtung
Vogelbeobachtung
Kanufahren
Radfahren
Gourmetrestaurant
Angeln
Fliegenfischen
Golf
Reiten
Kayakfahren
Mountainbikefahren
Museen/Gallerien
Parasailing
Floßfahren
Klettern
Wandern
Aktivitäten auf dem Wasser
Wildnis