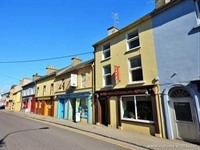 Dunmanway
Dunmanway is a town in County Cork, in the southwest of Ireland. It is the geographical centre of the region known as West Cork. It is the birthplace of Sam Maguire, an Irish Protestant republican, for whom the trophy of the All-Ireland Senior Football Championship is named.
There is disagreement over the meaning and origin of the town's name. Various sources list its meaning when translated from Irish as "the castle of the yellow river," "the castle on the little plain," "the fort of the gables (or pinnacles)," and "the fort of the yellow women." The town centre is built on and around two rivers, each of which are tributaries of the larger River Bandon, which passes by at the east end of the town.
The town is twinned with Quéven, France. Dunmanway won the Irish Tidy Towns Competition in 1982. More recently, the town came to national and international attention thanks to a visit by Liverpool Football Club for a pre-season soccer friendly.
The population of Dunmanway and its environs at the 2011 census was 2,377.